As a community of prayer and quiet, we welcome guests in their search for God and for finding purpose and meaning in their lives. All are welcomed as Christ, in the spirit of the Rule of St. Benedict. If you wish to come for a visit, to share in the life of the Monastery, please fill out this linked form. Tell us the dates you would like to come, and we will let you know if it is possible for us to accommodate you. We normally limit guests to stays of not more than two weeks.
Beaumont is located in southeast Texas near the Gulf coast and the Louisiana border. It is 90 miles east of Houston and 185 miles west of Baton Rouge. You can reach Beaumont flying into the Southeast Texas Regional Airport (BPT) locally, or to Intercontinental (IAH) or Hobby (HOU) Airports in Houston. Limousine service is available to and from all three. Please call us if you need to arrange to be picked up at one of the airports.

By car you reach the Monastery on I-10 from the east and west and by US 69 and 96 from the north and south. It is 20 minutes from Port Arthur and 35 minutes from Orange. Holy Cross is approximately 1.5 hours from Houston, 50 minutes from Lake Charles, and 3 hours from Baton Rouge. Dallas, San Antonio, Austin and New Orleans are all about 4.5 hours distant.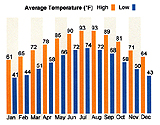 The weather here in Beaumont can be hot and humid in the height of summer, and is usually quite temperate during the rest of the year. Click on the chart for a closer view of the average temperatures during the year.
For current weather and a seven-day forecast at the Monastery, please click here.
If you wish to talk to us or give us feedback about this web site, please do so here.